As the flagship location for West of Eden Fine Art, the Roundhouse and Capstan Gallery in Sennen Cove is a showcase for excellence in Cornish art and craft, featuring an ever changing display of work by many popular and established Cornish artists and crafts people. West of Eden is a promotional vehicle dreamed up by owners, former Classic FM presenter, Sally Peterson, and her husband, sculptor Colin Caffell, to celebrate the best of what we think Cornwall has to offer. The Roundhouse Gallery is our first venture into this.

As one of the most iconic buildings in West Cornwall, with its feet almost in the Atlantic Ocean, this Grade II listed building was constructed in 1876 to house the huge man powered capstan wheel which was originally open to the elements on the Sennen harbour beach. Originally part of the winding gear of a local tin mine before the advent of steam, the capstan was used to winch boats up and down the slip. The upper floor was used as a net-loft until it started life as a gallery in 1983. The Capstan Gallery on the lower floor still houses the old wheel which is now covered with glass and used to display artwork. The capstan room was transformed in 1997 from an open earth-floored cellar into this downstairs gallery and is now home to some of the finest paintings, sculpture and ceramics by the district's most talented artists.

All the work on display in the Roundhouse is from Cornwall or has a strong Cornish connection. The net loft with its very low beams on the upper floor houses even more fine art and an ever-changing display of pottery, prints, photography, jewellery, glass and other craftwork created by local artists and crafts people.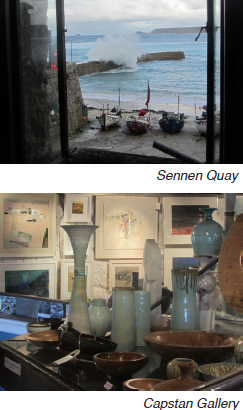 'Sennen waves' by Neil Pinkett
PAINTINGS

SCULPTURES

CERAMICS

JEWELLERY

PRINTS

GLASSWARE

CRAFTS

BOOKS